TechWest Engineering
TechWest's engineering and design team design team has more than 35 years of completion engineering design experience. The engineering team is located in-house at our manufacturing facility in Calgary, Canada, enabling us to respond quickly to our client's needs and deliver a high level of customer service.
TechWest continually strives to employ industry-leading engineering, software and technology so that our product meets or exceeds the needs of our customers.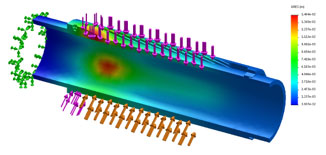 Innovation
Many of TechWest's new tool innovations come from customer requests. As a design and manufacturing company we are constantly in pursuit of new tools and innovations and we encourage anyone to contact us with such enquiries and requests.
Specifications and Registrations
As a registered Member of API Q1 (Reg. No. Q1-2959) "Specification for Quality Management System Requirements for Manufacturing Organizations for the Petroleum and Natural Gas Industry", and API 11D1 (Reg. No. 11D1-0124) TechWest's tools are designed and validated to these specifications.
TechWest holds a Permit to Practice (P13848) with the Association of Professional Engineers and Geoscientist of Alberta (APEGA):
The APEAGA Code of Ethics requires Members to "uphold and enhance the honour, dignity, and reputation of their professions and thus the ability of the professions to serve the public interest." The Code also requires that Members only undertake work that they are competent to perform and that they act with integrity and honesty.